What would a dance inspired men's wear line look like? When it hails from the maverick mind of French designer Stéphane Ashpool, it looks like deep textures, bold color and of course flowing movement.
In a recent debute of the Pigalle Fall 2018 collection, designer Ashpool spoke of his inspiration for the line coming from the personal place of his background in dance and its settings in which it took place. Ashpool constructed his collection based off of his fond memories of the dance studio where he spent much of his childhood. The Ken doll inspired wigs and other bold, bright details are all tributes to his dancer mom.
something that stimulates the senses and is geared for total freedom of movement. The looks below were all inspired by its creators love for dance and passion for forward fashion. Each style of dance has its own fashion that lends to the functionality of that genre. Form fitting wear to highlight lines and extensions in ballet, loose fitting gear lends to the free flowing, athletic movements of hip-hop, while dark colors and dramatic details accentuate the brooding mood, staccato steps and deep drama of tango.
This spirited collection is like a mashup of different worlds; from childlike prints to sophisticated coats; from track looks to outer wear, from futuristic pieces to functional foot wraps, this collection loudly screams daring, drama, dance.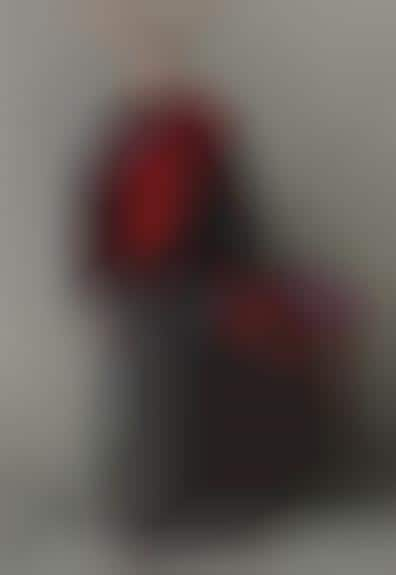 Even while draped in this dramatic red wrap, the feet are not forgotten with Ashpool's signature foot wraps, another homage to the dance world.
When office sheik meets slick texture on fleek.
When street meets sheik it's oh so fleek.

Ken doll's colorful future.
So much color, so many layers. With this much going on, you can't miss that hair!
Fisher Price meets Rainbow Bright. Like a child's toy coming to life.
When the colored, braided beard is the main accessory.